Matthew began woodturning in late 2003 having been given his first lathe as a surprise 40th birthday present by his wife. After a 3 day hands on course to learn how to present a piece of steel to a whizzing lump of wood without breaking his wrists, Matthew embarked on establishing his style which is to present the wood in its best shape to emphasise its grain and highlight its bark, sapwood and heartwood wherever possible ensuring that it can still be identified as a piece of wood.
He refuses to use stains and colours and works with as wide a range of woods as possible to show off the natural beauty of each piece. English wood varieties are mainly from local woods in Derbyshire though some exotic species from sustainable sources are also used for their beautiful grain and colour. Many pieces start life with one purpose but their knots and soft and hard patches dictate what the piece finally appears as.
Matthew creates a large variety of products ranging from small spinning tops and colourful door wedges and crosses up through candlesticks, bowls and dishes to large platters and plates. Commissions have included a round box for long matches, a simple pot stand and a large mortar and pestle.
Also at Christmas Cottage you will find a selection of crochet blankets and products made by Nanny Meg which are combined into my new display layout.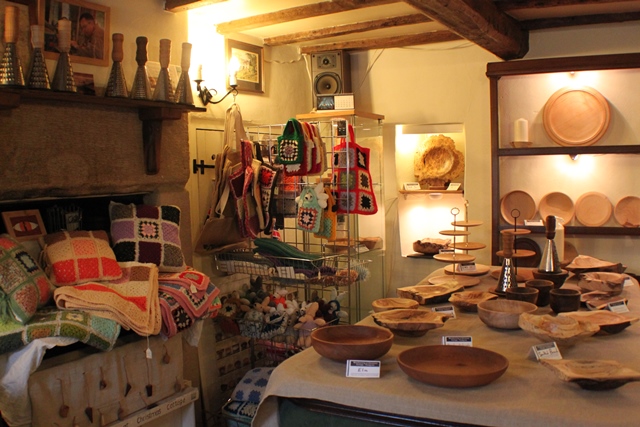 Woodturning at Christmas Cottage and April Cottage (self-catering sleeps 3) are members of EQM.
What is the Peak District Environmental Quality Mark (EQM)?
It is an award presented by the Peak District National Park Authority to organisations that:
Support the local economy
Protect the global environment
Enhance the local environment
Invest in people and communities
Celebrate what's special about the Peak District National Park
When you buy a product or service that has been awarded the EQM, you can be confident that your purchase helps look after the Peak District environment, as well as local people and communities.